WE ARE
APA is Professional association &
non-profit agency & ASIA's largest professional
Pilates and Business organization.
Asia Pilates Alliance is total social network for pilates instructors, pilates academy, pilates center owner,
pilates equipment manufacturer and companies related to pilates business in Asia region.
To internationalize pilates business, we need to develop pilates business equally in Asia region.
To realize this plan we need common social network for pilates business in Asia region.
To overcome misunderstanding between each countries comes from cultural difference and different life environment, and to pass a long be loved
and world recognized piltes we need a strong pialtes network!
APA is the only answer for it!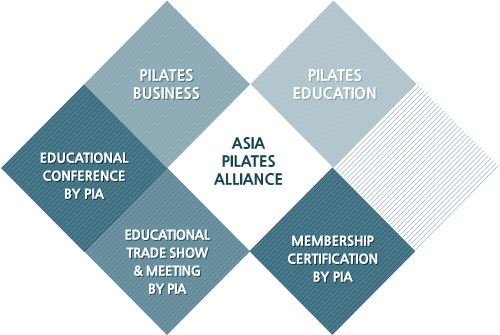 FOUNDER'S MESSAGE
Pilates has been diffused in Asia region over 11 years.
APA will improve accessibility of pilates to potential customers by various advertisements, and keep pilates experienced customers interested in pilates by develop brand new pilates excise programs.

Since pilates had been started from Europe and America, its methods and exercise programs were fit to westerner's physical condition.
This is time to develop pilates method more effectiveness for Asian which is considered Asian's life environment, body balance different with westerner's, Asian's physiological condition and mental state.

Pilates instructors need management network to improve customer management skills and pilates knowledge.
They will need education and interchange of ideas to provide customers better excise program and service.

Also we need systematic business marketing plan to change academic based pilates into industrial contents.
We need to work on make a business market in fitness industries.
Pilates have to become a industrial contents to make global market over the world and APA will lead this challenge!