APA Dr.Jang's visiting to Iran professional pilates seminar
Kyungwon, Jang, Care Pilates CEO & President of APA,
was invited West Asia Pilates Association (WAPA) conducted by Iran Pilates Association for five days.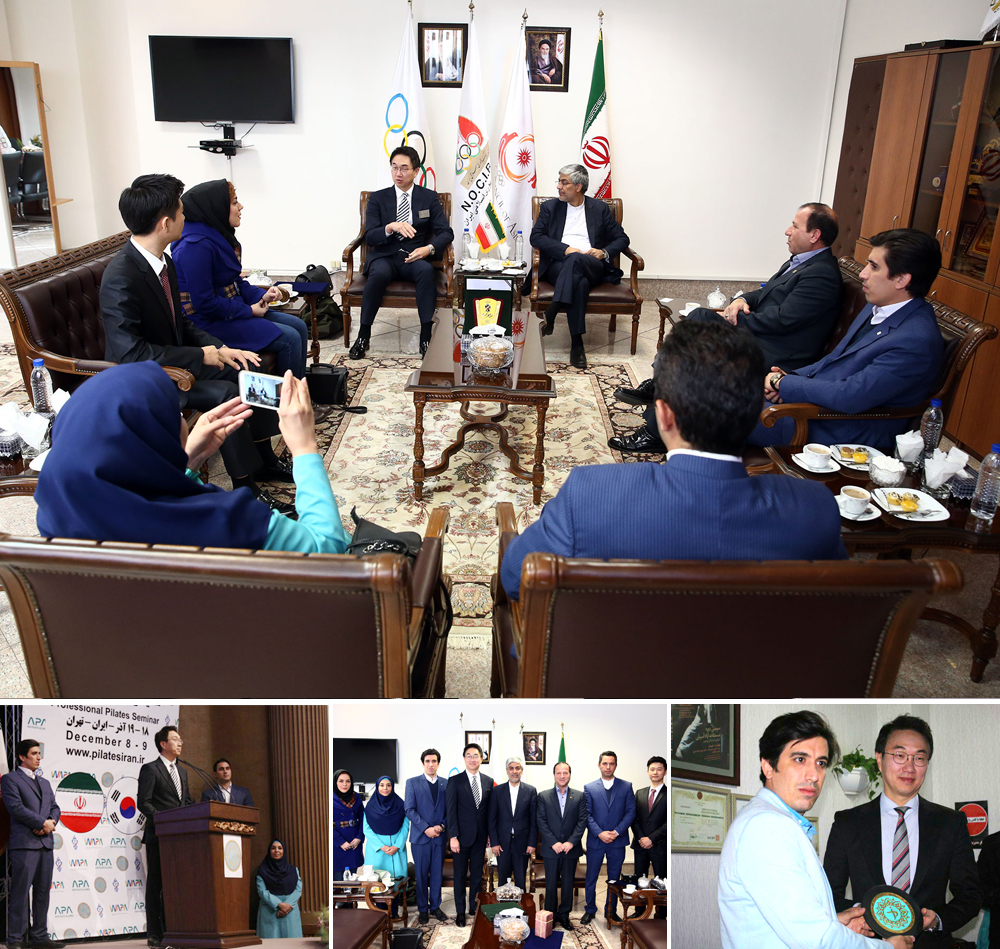 Care Pilates has underlined the importance of the establishment of Asian pilates community for pilates development with conducting Pilates in Asia.
Pilates has been introduced to Iran 10 years ago, and become popular as a national sport.
Iran is the most enthusiastic county to pilates, in the meantime, pilates equipment has not been supplied so far.
General Assembly will be held in Sep 2017, in which 17 Asian countries are expected to come, and Iran will be a core play country that spread pilates to the other neighbors.
On the first day of the seminar, Kyungwon, Jang delivered the principle of pilates and necessity of pilates equipment to Iranian pilates instructors and students.
Iranian pilates Association is supported by national Olympic committee and is expected to make remarkable development in regards of its infrastructure with stability than any other counties.
Dr. Jang and Kiumars, president of national Olympic committee, had a talk over Korea-Iran sports cooperation relating to pilates and exchanged appreciation plaques.
On the second day, Dr. Jang presented how to manage clients and philosophy pilates instructor must have, after that Q&A session, Korean pilates growth example were followed, which Dr. Jang introduced the most fast growing pilates industry in Korea to Iranian fitness specialist and leaders of sports organizations.
Since the necessity of support from Dr. Jang and APA, well-treated and hospitality were great.
Iman Mottaghian Nejad, president of Iranian Pilates Association who is a successor to Karate from his father hosted the seminar and accelerate Iran pilates growth with his own network and experiences.
He is the man of 2016. Iman's leadership and positive plans reflect on his ability to lead Iranian pilates to higher level not only in Iran, but also in West Asian countries. Iran has 80 million population and 12 million in Tehran. Around 2,000 pilates clubs are in Tehran.
Iranian pilates is on the beginning of recreating pilates with Iranian traditional background and its intention should be acknowledged Care Pilates, a comprehensive pilates company, will support Iman's activities and plans to develop moreover it will extend cooperation with Iran pilates.
APA will continue to help other APA members exchange cultural and industrial with WAPA.
Acknowledging pilates as a global method and mutual development between Korea-Iran sports are highly expected.